please please me
"You can please some of the people all of the time, you can please all of the people some of the time, but you can't please all of the people all of the time".  
-John Lydgate
In 1995 Russian artists Vitaly Komar and Alex Melamid embarked on a project to discover what art would look like if it was created with the sole intention of appealing to the aesthetic preferences of the greatest number of people possible. 

The project was titled "The Most Wanted" and the art (paintings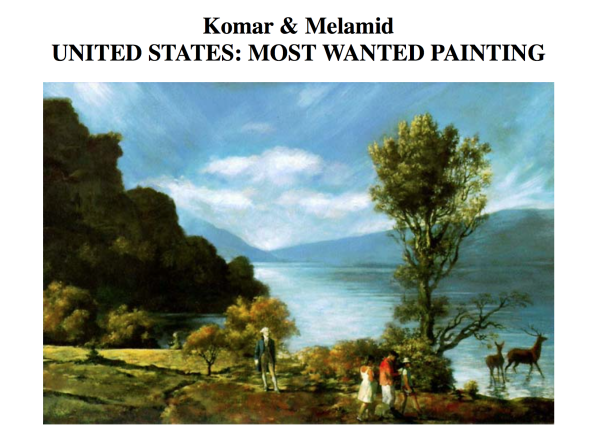 ) in the project reflect Komar & Melamid's interpretations of a professional market survey about people's tastes and preferences in regard to art. 
People were asked what they like and dislike in art with questions in the survey ranging from, "what is your favourite colour?" to "do you prefer expressive brushstrokes or smooth canvas?". The artists used this information to create a painting (paintings) which would be, according to their research, the most desirable painting(s) they could possibly produce.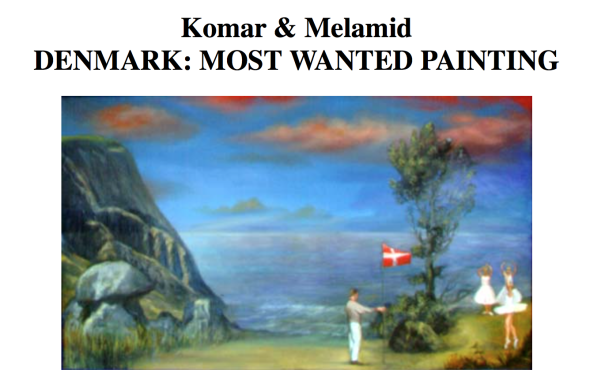 The first painting in "The Most Wanted" series was displayed in New York (I'm not sure how it was received) and the project was expanded to include more than a dozen countries shortly thereafter. You can see the survey results for all countries here and visit the official site of "The Most Wanted" and (bonus!) "Least Wanted" paintings here.
So what do you think? Did the artists succeed in making something you love (or even like-)? What's your preference?